Asbestos may have been banned in the United Kingdom 20 years ago, but the deadly carcinogen continues to be the leading cause of occupational death, leading to 5,500 deaths in the U.K. last year.
According to a new report by ResPublica, an estimated six million tons of the deadly carcinogen remain inside 1.5 million buildings in the U.K., including schools and hospitals — many of which were built prior to the 1999 ban.

Exposure to asbestos is directly connected to multiple diseases, including 
mesothelioma
, lung cancer and asbestosis.
8 in 10 UK Schools Contain Asbestos
ResPublica estimates that 80% of schools in the U.K. contain asbestos, and 74% of universities report asbestos in their buildings.
Furthermore, in July 2019 the Guardian reported that nearly 700 English schools had been reported for failing to prove they were managing their asbestos in line with legal requirements.
As a result, hundreds of thousands of teachers and students may have been exposed to the toxic substance as they sat in a classroom or walked down a hall.

Because of this exposure, teachers are five times more likely to develop 
mesothelioma in the U.K.
 than the general population. Moreover, a five-year-old child exposed to asbestos is five times more likely to contract mesothelioma than someone exposed to asbestos in their 30s.
This accounts for a 2012 estimate cited by the All-Party Parliamentary Group on Occupational Health and Safety that "for every teacher's death there would be nine subsequent deaths of the children as a direct result of asbestos exposure at school."
Lucie Stephens lost her mother to mesothelioma in 2016. Her mother was a teacher in the U.K. for 30 years.
"After Mum's diagnosis, we did more research on the issue of asbestos in schools and were horrified with what we found. We had no idea it was still in so many schools and that so many other people had been affected," Stephens told The Mesothelioma Center at Asbestos.com. "Throughout her illness, Mum worried about how many of her pupils and colleagues would also have been exposed to asbestos."
Prior to her mother's death, Stephens promised she would do her best to try and stop others from suffering as she did. To date, her 
petition
 encouraging the Minister of Education to remove all asbestos from schools has over 120,000 signatures.
Nurses at Increased Risk of Asbestos Disease
Teachers and their students aren't the only ones at an increased risk of an asbestos-related death.
The report states nurses are three times more likely to develop mesothelioma than the general population, which is the result of roughly 94% of U.K. hospitals containing asbestos.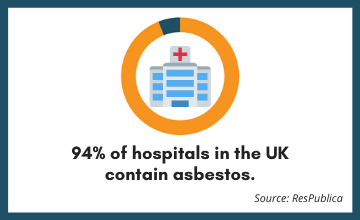 Emily Ward, a seven-year 
pleural mesothelioma survivor
 from the U.S., is all too familiar with the potential risk of asbestos exposure in a hospital setting. The former nurse was exposed to asbestos during a hospital renovation in the 1970s. "I never suspected the dust stirred up from the renovation would be harmful to my health," she explained.
To learn more about asbestos risks in U.K. schools and hospitals, check out the infographic below.